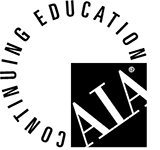 Start:
30 July, 2020 10:30 AM (Central Time)
End:
30 July, 2020 11:30 AM (Central Time)
Cost:
Not Applicable
Length/Credit:
1 LU Hour
Speaker:
Kirby M. Davis;Susan L. Dolata
Speaker's email:
landmarkcommunity@lcusa.com
Powered by
Laticrete


Description
Description:
This educational seminar is prepared to teach problem prevention by giving the design practitioner and / or construction manager the practical information necessary to properly specify the correct tile for a specific situation and the job appropriate installation technique. Working knowledge of how tile is installed is just as important as the tile itself.
Learning Objectives:
At the end of the program, the participant will be able to:
1. Understand the benefits of using tile and stone as a finish material on a facade.
2. Know how to specify the correct materials and methods for installation of tile and stone on a facade.
3. Recognize the importance of proper maintenance in the long term success of the installation.
4. Avoid the most common problems associated with tile and stone on façade installations
5. Know where to access resources for innovative design and specification information.